SPEARity™ offers a full line of services that meet you where you are in business. We can help you identify where you want to go and develop a plan to get there.  Our plans are tailored to your individual business, whether you are looking for an individual solution or full implementation.  Here's how it works: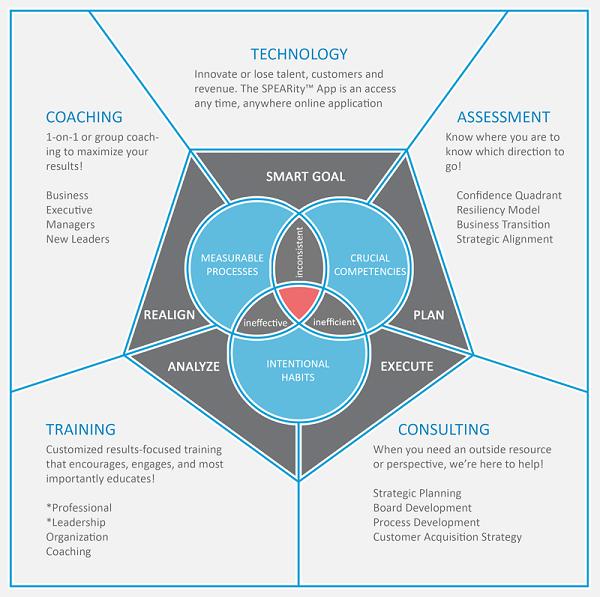 Assessment
SPEARity's™ assessment services will help you determine the current state of your business. We will look at your processes, systems, habits, and culture, among other things, in order to determine the strengths and weaknesses of your company. Through this process, we can help you determine what processes, competencies, and habits need to be in place to help your business reach its goals.  Learn More.
Consulting
SPEARity's™ consulting services are exactly what you need if you are ready to grow your business and don't have the resources in-house to complete the strategic planning you need. A SPEARity™ consultant can provide you with a fresh perspective, new skill set, and access to the best practices to help your business unlock its potential. Learn More.
Training
SPEARity™ will provide your company with results-focused training that is customized to address the competency issues in your business. The training will fill the gaps your business has as it grows towards reaching its potential. SPEAR™ Leadership training will help your company determine clear goals and an actionable plan on how to reach them. SPEAR™ Process training will learn how to implement the SPEAR™ process as a strategic improvement process. The SPEAR™ Certification training will teach you the skills that you need to continue walking your organization through the SPEAR™ process in the future. Learn More.
Coaching
Coaching with SPEARity™ will help you maximize your results. You will find the support you need to move your organization in the direction you want to go. Coaching can be completed one-on-one or as a leadership group. Learn More.
Technology
The SPEARity™ App will help you make the most of all the other services together. It is an access anytime, from anywhere, online application that can help individuals, teams, and entire departments align their work with their goals. You can monitor your own progress, along with the progress of your employees. Learn More.