SPEARity™ Motivational Keynote Speakers
Looking for a speaker that will WOW your attendees and provide a unique and fresh perspective on business & leadership topics?
You came to the right place!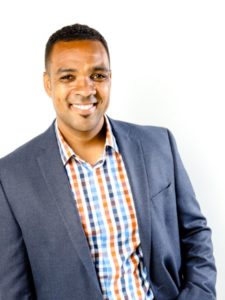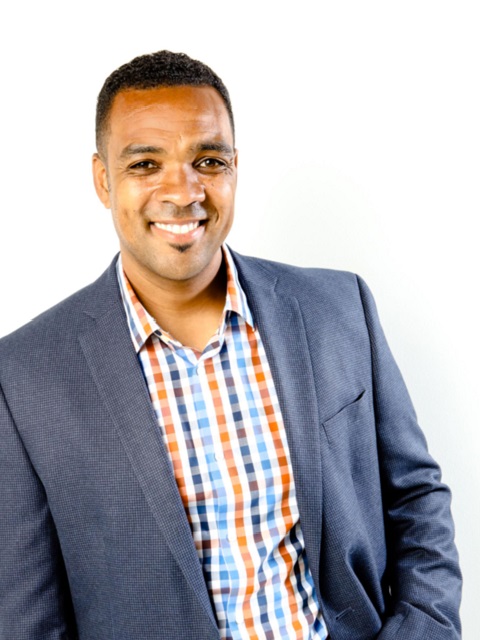 If you are looking for a dynamic keynote speaker that will have your audience engaged and entertained, Darren Fisher is your guy! Located in Milwaukee, WI, Darren travels around the country speaking at events for HR Professionals, Business Owners, C-Level Executives, Change Agents, and anyone interested in leadership development.
Darren Fisher is the Founder & CEO of SPEARity™ a Milwaukee based company  that provides business coaching, executive coaching, and leadership development training. He is also the best-selling author of, The Confidence Quadrant, as well as an Air Force veteran with accolades for outstanding service, leadership and technical ability.
Darren fundamentally believes there's excellence in everyone, so he's made it his mission to help others achieve a greater success.
"Darren Fisher is an excellent motivational speaker. He is able to capture and engage an audience of any age. He has spoken at several completion ceremonies, and because of his delivery, the audience members have given him accolades. If you are looking for someone encourage your group, he's your guy."
"Darren just spoke at a jobseeker group and really helped motivate, challenge them to examine their actions (or lack of) and move job seekers forward. Every person in the room was listening. They heard you, Darren, and will be better for it. If you need someone to energize a crowd, someone who tells it like it is with heart and grace, call Darren!"
Speaking Topics
Learn more about Darren's most popular topics for conferences and trainings.
Each topic can be tailored to fit with the overall theme of your conference to help you maintain a cohesive feel for your entire event. 
Understanding how to improve performance by how we handle success and failure.
• Learn the four (4) Confidence Quadrant™ types and the performance impact of each type
• Learn why some embrace success & failure and others do not
• Learn the power of success and failure to pursue greatness
• Learn how confidence and adaptability are the keys to sustained achievement
Understating how to deal with unhappy customers
• Learn the CPR of Customer Resolutions
• Learn how to prevent customer conflict
• Learn the main reasons why customer conflict occurs
• Learn keys to solving customer conflict
Understanding how great leaders are developed not born
• Learn the three (3) essential components of vision casting
• Learn the top-down vs bottom up approach to leadership
• Learn how to develop objectives that everyone will support
• Learn the role timing and chance play in great leadership
Understanding how anyone can learn to think strategically
• Learn the five (5) keys to thinking strategically
• Learn the importance of goal setting
• Learn the skills related to planning
• Learn how emotion plays a part in strategic thinking
• Learn how to practice strategic thinking until it becomes a habit
Overcoming failure by overcoming fear-based behaviors.
Learn how to move beyond embracing change and actually changing behavior
Learn the three behavioral reactions to stress (flight, fight, freeze)
Learn the four aspects of how we decided to react (trigger, feeling, decision, response)
Learn the power of emotions on our behaviors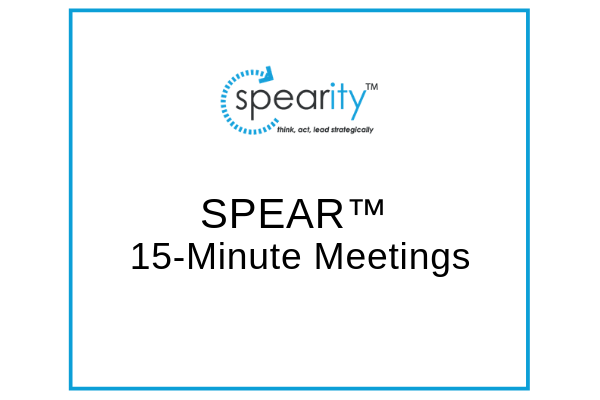 No one likes unproductive meetings. Learn how to get your meetings with your direct reports down to 15 minutes per week.
Learn the purpose of the 15 minute meeting
Learn how to run the 15 minute meetings
Learn how to avoid the three (3) "drifts"
Learn to combine the SPEAR™ and 15 Minute meetings
Interested in having Darren Fisher speak at your event?
Call: 414.265.5755 
Email: speaker@spearity.com 
If you prefer to reach out directly you can reach us at:
313 N Plankinton Raod
Suite 205
Milwaukee, WI 53203